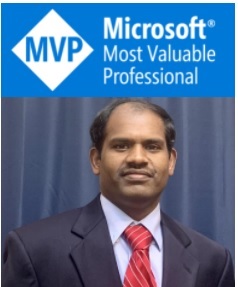 Hi, my name is Stalin Ponnusamy
Microsoft® MVP and Certified Professional
Dynamics 365, Power Platform, and Azure Cloud
Associate Director | Program Delivery Manager | Enterprise Architect
Currently working as Associate Director to lead the project delivery success in terms of Architect and Program Delivery Manager at Protiviti. I have worked with Microsoft D365 Customer Engagement (formally known as Dynamics CRM) since CRM 4.0. I started working as a .NET Developer back in 2004 as a consultant.
I started working as a CRM Consultant in 2008. After working as a CRM Consultant at a few companies, I joined Protiviti as a Senior Architect. I work in the Sales, Customer Service, and Marketing D365-CE modules. I have strong implementation experience in Azure Cloud and Power platforms for many clients.
Recent Certifications
MB-200: Microsoft Power Platform + Dynamics 365 Core
MB-210: Microsoft Dynamics 365 Sales
MB-600: Microsoft Dynamics 365 + Power Platform Solution Architect
Hobbies
I like to play soccer, badminton, and volleyball, and I watch sports & games.
Volunteer
I also volunteer for Minnesota Tamil School (MNTS) as a BASIC 2 Tamil language teacher and syllabus coordinator. As part of the Syllabus team that writes its own language book for Tamil Schools.
Received Presidential Voluntary Award for the consecutive 2019-20 & 2020-21 school year(s).
MN Tamil School Basic 2 Syllabus: BASIC 2 – NOVICE MID ( Curriculum )